THE MATCHSTICK GIRL by Suzanne Hocking
***Shortlisted for the Dundee International Book Prize***
YELENA walks the line between cold and poverty. Then for a brief moment fortune shines on her and Yelena catches a glimpse of hopes and unknown joys that she never imagined could have been within her reach. But as soon as it appears, it is taken from her. Obsession takes hold, and as the years pass, she grows to want far more than what the life of a young girl of the streets can offer. Through luck and deceit, she lands a place at the esteemed Smolny Institute for Noble Girls where the young women of the Russian court are taught mathematics, literature and science and where Yelena hopes to light a fire under Russian society.
THE MATCHSTICK GIRL brings LGBT undercurrents to nineteenth-century Russia, as our young protagonist struggles with class differences, schoolgirl relationships and her search for self-empowerment.
5 x 8 | 238 pages | ISBN 978-1-926716-34-3 (pbk.) | $15.88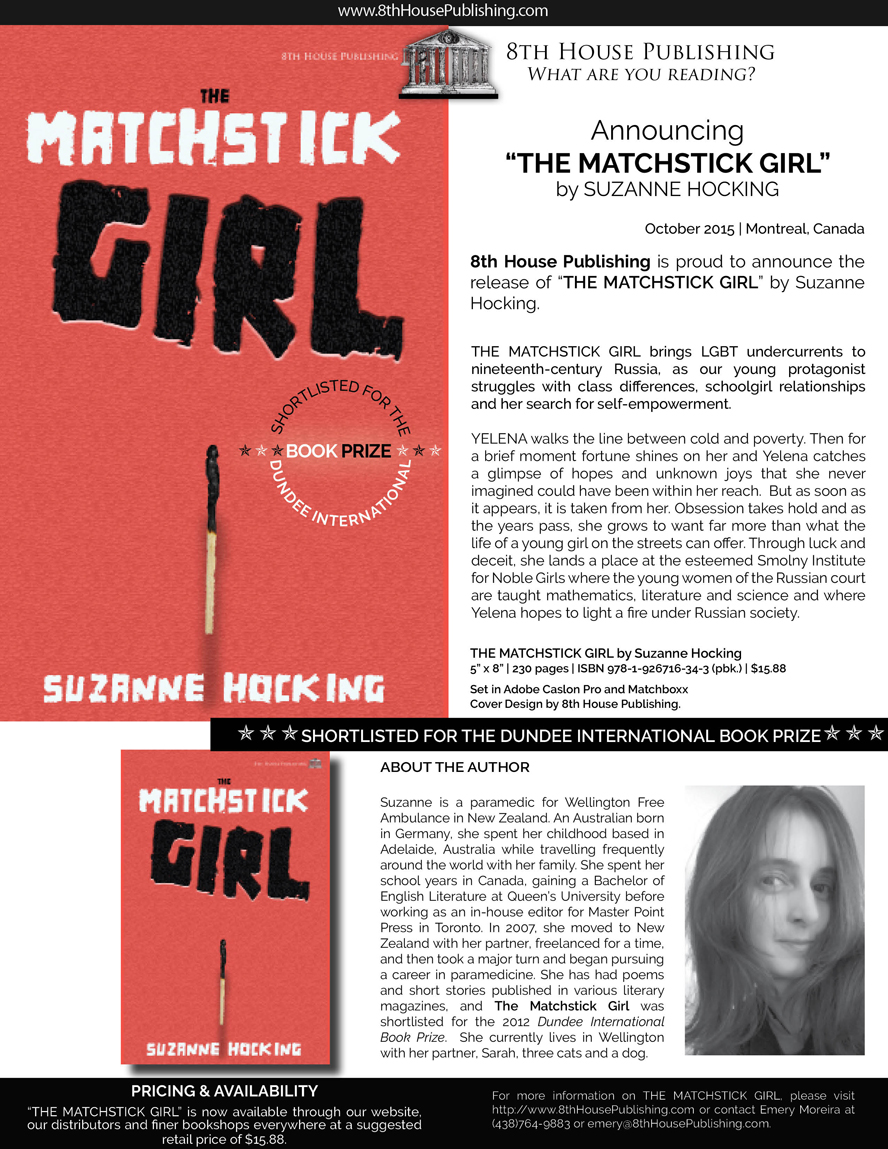 $15.88
THE MATCHSTICK GIRL by Suzanne Hocking
5. 5 x 8.5 | 238 pages | ISBN 978-1-926716-34-3 (pbk.) | $15.88 
Cover Design © 2015 8th House Publishing
ABOUT THE AUTHOR
Suzanne Hocking is a paramedic for Wellington Free Ambulance in New Zealand. An Australian born in Germany, she spent her childhood based in Adelaide, Australia while travelling frequently around the world with her family. She spent her school years in Canada, gaining a Bachelor of English Literature at Queen's University before working as an in-house editor for Master Point Press in Toronto. In 2007, she moved to New Zealand with her partner, freelanced for a time, and then took a major turn and began pursuing a career in paramedicine. She has had poems and short stories published in various literary magazines, and The Matchstick Girl was shortlisted for the 2012 Dundee International Book Prize.  She currently lives in Wellington with her partner, Sarah, three cats and a dog.